Buran OK-GLI will finally go to Germany
The experimental space shuttle Buran OK-GLI should go to Germany in the next days. On February, 27 2008 the direction of the Sinsheim Auto & Technik Museum went to Bahrain (where it was stocked) to receive the authorization to move the shuttle.
The shuttle will be carried by boat in the next weeks. 23 days later it will arrive at Rotterdam, then it will be carried by barge to the Technik Museum Speyer (town of Speyer).
The shuttle will take place in the biggest hangar of the museum (still in construction).
It's the end of 3 years of proceedings and the beginning of a new life for the shuttle.
Update of March 6:
Buran left Bahrain during the night of Tuesday 4 to Wednesday 5, she is on the way to Rotterdam where she will arrive at the end of march. The hangar which shelter her is 22m heigh, it should be finished when she will arrive. It cost 10 million euros.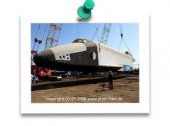 Posted on: 2008-03-01 under Buran OK-GLI.
25 comments »
Articles that can interest you :
Comments