Little world tour for the Antonov
GAC Logistics UK (service of goods transport) welcomed the Antonov An-225 Mriya, to the UK at Nottingham East Midlands Airport today. It was chartered to return sound and stage equipment from the first annual "This Day" festival staged in Lagos (former capital of Nigeria) to mark the 46th anniversary of Nigerian independence.
"It is really exciting to see the Antonov at East Midlands," said Bronwyn Mead, Manager of GAC Logistics' East Midlands. branch.
"We needed to charter an aircraft of such dimensions because of the sheer volume of equipment and the critical timescales we were facing," says Martin Corr from Sound Moves, who partnered GAC in this transportation operation.
"The 'This Day' festival was a massive event held in the glare of the world's publicity spotlight – there was absolutely no margin for error. We chose GAC Logistics to clear the return of the equipment to the UK because our two companies always work well together to meet the needs of the music industry."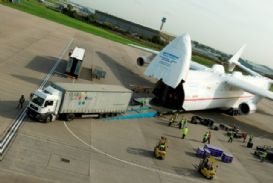 Posted on: 2006-11-21 under Mriya.
No comment »
Articles that can interest you :