25th anniversary of the Energia's flight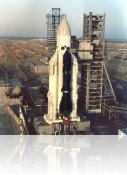 Today we celebrate the 25th anniversary of the first Energia's flight on May 15, 1987.
It is at 21h30 (Moscow time) that the rocket was launched for the first time with the Polious space combat station as a payload. The launch went fine, despite a trouble during take off, but a malfunction in the orientation system didn't allowed it to reach it's orbit.
The second and last launch of Energia took place one year later with Buran on November 15, 1988.
Even if Energia was a versatile, adjustable, very powerful (100t in low earth orbit) and reliable (2 launch and 2 success) rocket, the lack of large scale projects and the collapse of the USSR buried it. Only its boosters made from Zenit launcher are still used today.
Posted on: 2012-05-15 under Buran, Energia, Polyus.
No comment »
Articles that can interest you :