Tsiolkovsky's house
Konstantin Tsiolkovsky a Russian scientist of the end of the 19th and the beginning of the 20th century lived an important part of his life in the city of Kaluga. This Russian town is located at 200km in the Southwest of Moscow and possesses two main museums in the cosmonautic field. The main museum is called the « Museum of the history of Cosmonautic », but the one that I am going to present you here is a little less known museum, it's the museum house of Konstantin Tsiolkovsky.
Konstantin Tsiolkovsky bought this house in 1904, at that time it had only one level but because of the flood of the river Oka in spring 1908 the house was seriously damaged. It was after the renovation works that a second level was added. He lived 29 years in this house with his family and wrote a dozen of his works (works on the propulsion, the aviation, the aeronautics and the other domains).
Konstantin Tsiolkovsky died on September 19th, 1935, the following year the house was transformed into a museum. During the 2nd world war Kaluga was occupied by the German army, the house served as accommodation for the troops, unfortunatly certain objects were lost, but most of the valuables were able to be saved by the persons in charge of the museum and the members of the family. Sometimes after the liberation the museum was re-opened to the public.
In 1957, to celebrate the launch of the Sputnik, the museum received new objects from the Sciences Academy of the USSR and was reorganized, under the initiative of S.P. Korolev, to show the application of Konstantin Tsiolkovsky's theories.
In 1968 all the house's rooms were restored, in their original state, during a new closure of several months.
Most of the shown objects are originals and belongs to the museum or to the familly.
Outside
Roooms at the ground floor
Stove.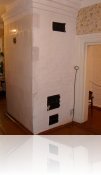 Room of the oldest daughter
Living room (room of the youngests).
Rooms upstairs
The Konstantin Tsiolkovsky's wife slept in the room next to him.
Konstantin Tsiolkovsky's desk.
His workshop
Comments