Death of test pilot Pyotr Ostapenko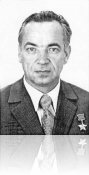 It is with a simple press release that the Russian press agency (RIA Novosti) announced the death of the test pilot Pyotr Ostapenko on April 8, 2012, at the age of 83.
Pyotr Ostapenko worked all his career (1958-1981) for the design bureau MiG as a test pilot. He flew more than 5000 hours, did more than 10000 landings, and held 8 world records of which some are not smashed.
Thus he worked during the 70s on the space program Spiral as a test pilot of EPOS 105-11 (analog plane of the space plane EPOS).
During his career he helped develop no less than 64 planes such as MiG-21, MiG-23, MiG-25, MiG-27, MiG-29 and the MiG-31. His contribution to the school of test pilots was very important.
He was awarded of :
Order of the Red Star (1964)
Order of the Red Banner (1966)
Lenin's Order (1971)
Hero of the USSR (1971)
Test Pilot of the USSR (1973)
Order of the Red Banner of Labour (1974)
Laureate of the state price of the USSR (1981)
Posted on: 2012-04-16 under Spiral.
No comment »
Articles that can interest you :