The Mriya at the Toulouse-Blagnac airport
The Mriya landed on friday November, 30 on the Toulouse-Blagnac's airport, near the Toulouse town.
The An-225 came to France to take a military choper EC725 of the Eurocopter company (EADS group), which can carry 29 soldiers and 2 crew members.
It will leave again on saturday to Kuala-Lumpur (Malaisya) throuh Karachi (Pakistan).
May be it will come back at the end of the year.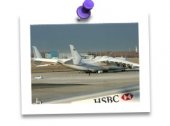 Posted on: 2007-12-04 under Mriya.
1 comment »
Articles that can interest you :
Comments