Unmanned space plane launch in 2008
The US Air Force has announced that it is developing an unmanned reusable spaceplane, the X-37B Orbital Test Vehicle. The first launch is in 2008 on an Atlas V rocket. The X-37B will be one-fourth the size of the Space Shuttle and serve as a testbed for technologies for future reusable spacecraft.
This is the first project to make an unmanned spacecraft since Buran.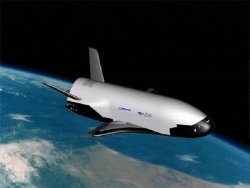 Posted on: 2006-11-23 under Non classé.
No comment »
Articles that can interest you :