Buran is now a museum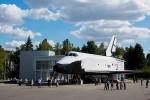 On August 15 the interactif museum « Buran » opened, in the VDNKh parc.
The museum firstly shows a video explaining the Buran-Energia project, then in the payload bay pictures of the Buran's assembly are shown, finally the visit ends with a view of the cockpit.
This shuttle is the test model OK-TVA which was moved last year in June 2014.
Source: rg.ru
Posted on: 2015-08-18 under Buran OK-TVA.
No comment »
Articles that can interest you :