The space webzine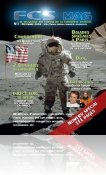 The first version of the FCS Mag has arrived. This review was made by some members of the Space Exploration Forum (in French) for the joy of everybody and not only specialists. The advantage of this formula is that the articles are written by passionnated people of this field (professionals or amateurs) which make them very interesting.
We can find articles about space news, missions in the ISS for example, as well as historical and scientific articles.
I wish long life for the webzine.
To download it it's here or on the picture.
Posted on: 2009-12-11 under Non classé, Web Site.
No comment »
Articles that can interest you :