New space transport for tourists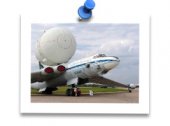 Myasishchev's experimental machine factory plans to finish development of feasibility study for new aerospace system M-91 in March.
Said system consists of a delivery aircraft VM-T and a recoverable module, carried to near space up to 100-km heights, which spends 5 minutes under zero gravity and returns to airdrome. Space module is controlled by two pilots and can carry up to 14 passengers. Orbital journeys will be performed on a commercial basis. First commercial flight is scheduled for 2012, and Russian pilots expect up to 100 flights per year.
The VM-T Atlant was designed to carry pieces of the Energia launch vehicule and the Buran space shuttle from their factories (near Moscow) to the cosmodrome of Baikonur in the mid 80s.
Source: Novosti Kosmonavtiki
Posted on: 2008-02-20 under VM-T Atlant.
2 comments »
Articles that can interest you :
Comments