Transport of the OK-TVA shuttle to the VDNKh park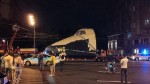 During the night 5 to 6 of July 2014 the Buran OK-TVA was transported from the Gorky park to the VDNKh park. It has been there since 1995 after being a restaurant, a tourist attraction and then a shelter for bicycles.
It is now in the VDNKh parc right in front of the Vostok rocket (the same used by Gagarine).
Soon will be an exposition inside the shuttle.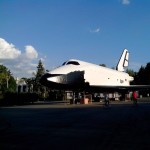 Photo Marc Courbin.
Posted on: 2014-07-30 under Buran OK-TVA.
2 comments »
Articles that can interest you :
Comments