Third room
This room is the biggest one and built on two levels, it is dedicated to modern aerospace, orbital stations, extra-vehicular activities and the international cooperation through the Interkosmos and ISS program.

Sokol (spacesuit used in the Soyuz spacecraft).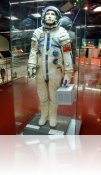 Yastreb spacesuit, used during the joint mission of Soyuz-4 and Soyuz-5 (docking of the 2 vehicles and extra-vehicular activity on January 15, 1969).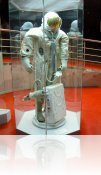 Some IVA suits (Salyut, MIR).
Training suit Chibis (to redirect the blood stream in the legs) and survival suit in case of sea landing.
ORLAN (spacesuit used for extra-vehicular activities).
Kretchet (spacesuit for moon walk).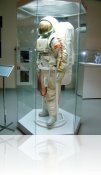 Mock-up of the Almaz station.

Mock-up of the « orbital station » Soyuz.

Documents and flights logs.
Soyuz's Kazbek seat.
Orbital module of a Soyuz.
Some experiments on plants made on MIR.
Medical equipment.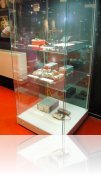 Sample return capsule, Raduga.

Work tools.
Trapdoor of the PIRS module (Russian part) on ISS.

KVANT-2 module (MIR).
MIR.
Sample placed outside to study their ageing.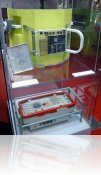 ISS mock-up.

Earth observation satellite.
Reproduction of the TsUP room (Flight Control Center).

Water tank.

Some food and fruit basket.
Toilets.
Reproduction of a survival scene in forest, after a Soyuz landing.
Piece of a Soyuz's heat shield.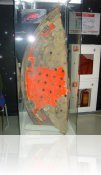 Survival equipment onboard a Soyuz spacecraft.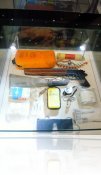 Lunakhod (Lunar rover remotly controled from Earth),launch in 1970 and 1973.
Probe of kind Luna-16 for returning Moon soil sample and the return capsule, launched on Septemnber 24, 1970.
Lunar rock samples (return by Luna-16).

Moon rocket N-1.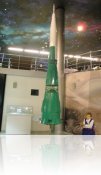 Lander Mars-3, launched on December 2, 1971.

Phobos-Grunt probe.

First Venusian probe, Venera-4 landed on October 18, 1967.
Venera-9 and Venera-10 probes. Launched on June 8 and 14, 1975.
Those two probes soft landed on Venus on October 22 and 25, 1975 (at 2200 km of each other). For the first time in the world a panorama picture of the Venusian's soil was transmited to Earth while the orbital probes (of those landers) studied the planet.
Dog compartment, inside a Vostok spacecraft.

RD-119 engine. Second stage of a Kosmos rocket.
Bion-16 spacecraft. Launched on December 14, 1983.
Return capsule of the Soyuz-37. Launched in April 1980 with Viktor Gorbatko et Pham Tuan of the Vietnam on board.
Androgynous docking piece between Apollo and Soyuz for the Apollo-Soyuz mission in 1975.
Documents and spacesuits for Apollo-Soyuz.
Interkosmos flights.
IVA suits for Interkosmos missions or collaborations programs.

Door of a room of the Cosmonaut Hotel at Baikonur.
Launched pads mock-up.
Things of S.P. Korolev.
RD-107 engine.
View of a Vostok rocket.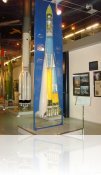 Launch key.
Documents.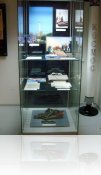 Quality seals.
Fragments of a Soyuz rocket.

Descent module of a Soyuz spacecraft.
Pilot's suit of Buran OK-GLI.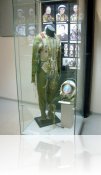 Buran's ejectable seat K-36RB.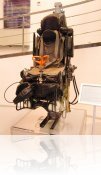 Aerodynamic tests shuttles.
Buran-Energia.
Kliper mock-up.

To the exit.

Comments