Day 5, Sunday, 09 November
Today is Sunday, it is the last day of the convention. When we arrive in the room we notice that there is less people than the days before. We take advantage of it to chat more with some of the astronauts and finally I psych out, I buy a Shuttle model in 1/200 and made it signed by the Shuttle astronauts present (Buran forgive me).

Scott Carpenter which knew some French words tried to make us guess this rebus, we needed some minutes to understand the principle, but finally he almost explained us everything. At the end he exclaimed that he knows French better than us!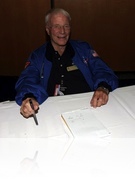 Here, it is the grandson of Richard Mullane, who's learning French who counted until fifteen and said some sentences (at top speed). Then asked Richard asked us if it was correct.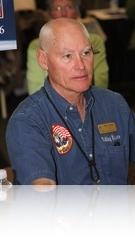 There, it is Vance Brand which was detailling us his encounter with Alexei Leonov in the mission Apollo-Soyouz.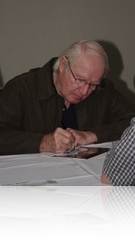 This meeting was memorable for me, because we were able to speak with really naturally, they were not pretentious, nor full of themselfs. We tried to ask them original questions and we could see in their eyes this little light of pride and sincerity when they were narrating their adventures.
Then, we finish the day by going to the Astronaut Encounter, every week an astronaut comes to make a presentation in this room of the KSC Visitor. This week it is John Blaha (STS-29, STS-33, STS-43, STS-58, STS-79 and MIR-22) who is present. His prize list is impressive, five Shuttle missions with one on MIR, he was pilot of the shuttle, the captain, the specialist of mission and finally on-board engineer on MIR. He begins the conference by telling us how takes place a mission aboard the shuttle illustrated with pictures. Then, the people present in the room ask a series of questions which regrettably always turns around the same subject: » How you go to the toilet in space? « . At the end of the presentation a photography session is organized with him, but they indicate us that he doesn't make autographs, it is pity I have still room on my Shuttle's tank. I go myself at the end of the line, when comes my turn I give him the Shuttle and ask him for an autograph, quite naturally he answers me » Off Course « , he signs, then makes a break and says that he doesn't put the name of the missions to leave room, but I insist then he does it (it is true that with all these missions is not enough room left). Then give me back the Shuttle with a big smile.
Some additional pictures: