1st stage: block A (rocket's booster)
The project envisaged several re-uses for block A, because it seemed that the problem of their return was less complex than the shuttle one. But the recurrence of the returns affected the structure of the blocks.
The analysis of the possible alternatives for the rescue of the blocks brought to use a system of parachutes. But several solutions were possible: the rescue of the whole block or some parts for example the engine. The system of rescue could be a parachute, a parachute combined with retrorocket, or wings and an turbojets. The direction taken by the block would have been controlled by actionning the parachute or the retrorocket, or with the elevons of the wings. The landing could then be horizontal or vertical, on the chassy or on shock absorbers system.
Finally, the solution was the rescue of the block in entirety, the descent would be slowed down by parachutes and in race end by retrorocket, the landing would take place on shock absorbers not to damage the structure of the block.
| | |
| --- | --- |
| | |
Return diagram of the block A.

At 135 s from the launch and 50 km of altitude the blocks are ejected, their speed is 1800 m/s. At 150-165 s the blocks separate individually, they are at 65-70 km of altitude and their speed is 1760-1720 m/s. At the time of the entry in the dense layers of the atmosphere at 80 km height and a speed of 1650 m/s the orientation system starts. The block penetrates now in the atmosphere, the nasal part ahead, which is equipped with a thermal protection. Its speed of penetration is of 1780 m/s but it decreases because the parachute was spread. Between the 285th second and the 450th the parachute slows down the block up to 70 m/s and height a 5 km. At this altitude the main parachute spread and makes speed fall to 30 - 20 m/s. At 3-4 km height the fixing node of the parachute moves towards the centre of gravity of the block to put it in horizontal position its speed is of 13-19 m/s. Then the shock absorbers spread, at 30-50 m height, the retrorocket start and the unit gently lands 11 to 12 min after the launch of the rocket.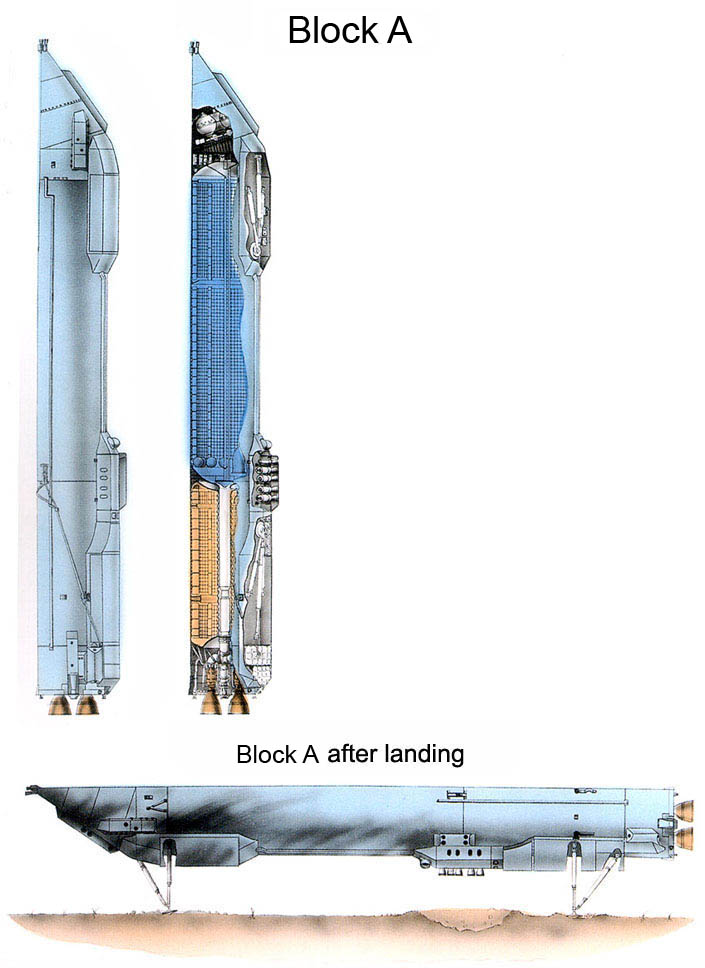 Technical characteristics

| | |
| --- | --- |
| Characteristic | Value |
| Dimensional specifications | |
| Height, m | 38.3 |
| Diameter, m | 3.9 |
| Mass at the launch, t | 1220-1240 |
| Mass without propellant, t | 218-250 |
energia, energiya, launcher, rocket, russian, soviet, propellant, block A, energia, energiya, booster, central bloc, launcher, rocket, russian, soviet, propellant, block A, booster, central bloc, energia, energiya, launcher, rocket, russian, soviet, propellant, block A, booster, central bloc, launcher, rocket, russian, soviet, propellant, block A, booster, central bloc, energia, energiya