Day 1, Thursday, April 03
This is the first day of our journey, and as usually the plane travel of 3h30 wasted all the day with its eternal waitings at the airport 2 or 3 hours before the check-in then the customs and finally, waiting before the boarding.
Then we flight on board an A320 from Aeroflot company.
At the arrival at Sheremetyevo 2 (North of Moscow) we go out of the plane to take a bus on the tarmac which leads us to the customs. And there a long waiting (2 counters open for the foreigners).
Just after the customs when waiting for the luggages an Intourist agent calmly awaited us with a sign. Once all the people of our group had passed the customs and everybody presented to each-others, Raymond 86 years old!, Philippe, Andre, Didier (capcomespace.net), Hugo and me, she said something in English to follow her to our taxi driver.
Up to that point we haven't lost too much time (compared to the time it's possible to lose in an airport), but it was without counting on the Moscovites congestions. We needed 1h30 to go to the Cosmos hotel (north-eastern of Moscow). On the way we have appreciate the fronts of the Ikea and Auchan stores written into Cyrillic, this is always odd, but also the monument which marks the limit of the German army progression during the second world war before it was pushed back by the red army under the command of Zhukov.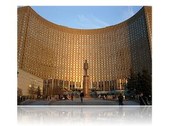 Our hotel during the two stays in Moscow was the « Cosmos ». It was built, like the Sheremetyevo airport, for the Olympic Games of 1980 and was at that time the most modern hotel of Moscow. At the arrival, around 20h30, it's an imposing statue of Charles De Gaulle, not very beautifull, who accomodates us (the « gatekeeper » as the Russians call it).
At this time, we were informed of an important thing, even the simplest requests take much time in Russia.
I see a receptionist and give her my name to get my key, she seeks in the computer and two minutes later she says that there is no reservations. Astonished, I give her the name of another person in the group, two minutes later it's the same thing, no reservations. There, I start to ask myself questions, then she turns over and will seek a small heap of sheets layed behind the counter and says to me with her Russian accent: « You are the french group of seven people ? ». She shows me the sheets and I see our names of registered voters, Ouf! We will not sleep outside this evening. Somebody must explain me what are the reasons to have an information system on computer and still continue to make reservations on paper! Another strange tradition: it is always necessary to give its passport when checking in a hotel (natives or foreigners), and not forget to take it back the following day.