The remote manipulator system
The remote manipulator system of the Buran shuttle was worked out by the central institute of search and experiments for robotics and cybernetics (ГНЦ ЦНИИ РТК РФ) at St-Petersburg. This institution was created at the end of the Sixties from the engineering and design department of cybernetics.


The tests proceeded at the institute in a special hangar. The arm is supported by cables to recreate the conditions of weightlessness. The arm of 15 m length (in the "tended" position of transport) moves in 3 plans and has 6 degrees of freedom. The handling system of the shuttle includes 2 remote manipulator system of 360 kg, the main and a reserve one. At the end of each manipulators is a grip which makes it possible to move the loads, moreover the operator see the handling thanks to a mobile camera (2 degrees of freedom) and with a projector fixed on the grip.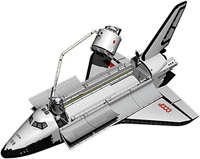 The management of the remote manipulator system is carried out by the console located at the back of the cockpit. Data-processing programs help the user for the complex handling tasks, Thanks to pre-programmed management modes. Management is ensured by 2 joysticks, one for the manipulation of the arm and the other one for the grip. In automatic mode the manipulator acts according to the programmed sequence, it fetches the payload in the hold and installs it outside the shuttle.
The remote manipulator system of the Buran shuttle has a major difference compared to the american one, it can not only be manipulated from the inside of the shuttle but also from the Earth. Management is made at the Terrestrial Flight Center, which downloads telemetric informations in the on-board computer which transmits them to the remote manipulator system. Thus, an operator on the ground can handle the payload at a distance of several thousands of kilometers in full safety.
The use of the remote manipulator system was not planned for the first flight of Buran, but for its second flight in December 1991 (which did not take place).
Various photographs of the remote manipulator system taken at the central institute of search and experimentation for robotics and cybernetics at St-Petersburg:
Characteristic
The movement in vacuum of the grip is accompanied by an amplitude by 7 to 10 cm and a frequency of oscillation from 0.5 to 1 Hz.
After handling a load of 1 t the amplitude of the oscillations (due to the clearance in the hinges) is 50 cm.
Stopping a load from 1.5 to 6 t is accompanied by a vibration of the arm which last from 2 to 4 min.
| | |
| --- | --- |
| Characteristic | Value |
| Degrees of freedom | 6 |
| Handing load, t | 30 |
| Operating range, m | 15.5 |
| Maximum speed, cm/s | |
| With a load | 10 |
| Without load | 30 |
| Precision of the grip, cm | 3 |