Archives for the year 2013
Today we are celebrating the 25th anniversary of the Buran's flight.
The start was given at 6 o'clock AM (Moscow time) under a thick cloud cover. The flight went through without specifics troubles and the shuttle landed smoothly on the runway of the Yubileyniy's airport, specially designed for this purpose.
This flight is a first in the history of space exploration because it's the first automatic flight of a space shuttle. Only the de-orbit command was transmitted from the ground.
Unfortunately, the financial and political situation of the USSR at that time was disastrous, the program was expensive and priorities has changed. The Energia-Buran program is slowly paused. There will be no further launches, despite the many opportunities that allowed the shuttle. Even the launcher Energia is abandoned.
Since then, no manned shuttle has reiterated the achievement of being driven solely by the on-board computer.
This program has been the swansong of the Soviet Cosmonautics.
Posted on: 2013-11-15 under Baikonur, Buran, Energia.
1 comment »
This year heavy rains little bit messed up this new edition of the MAKS air show 2013, especially the flights demonstrations, but at least some historic planes were exposed for the joy of visitors. Among them the VMT-Atlant, this plane made the two flights of the Energia rocket possible. Indeed, it was the only mean to safely transport parts of the rocket (and the shuttle Buran) from Moscow to Baikonur.
Source: lusika33
Posted on: 2013-09-04 under VM-T Atlant.
No comment »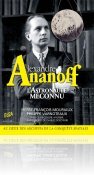 Alexander Ananoff was a person who lived his passion, the space exploration, and he dedicated to it a large part of his life.
This untiring self-taught man made it possible for the people to discover, since the 30′s, the advantages of space exploration for mankind. By virtue of his popularizer talent he succeeded to pass down his passion throughout conferences, symposiums, and publications, where many of his contemporary looked at him with contempt.
Thus, amongst other things, he helped Hergé for the redaction of the Tintin's adventures on the Moon and he created the first International Astronautical Congress in 1950.
Alexandre Ananoff, l'Astronaute méconnu (Alexander Ananoff, the unknown Astronaut) written by Pierre-François Mouriaux and Philippe Varnoteaux is an exciting biography which enlighten us on the not well known life of the first French space exploration popularizer.
ISBN : 979-10-90686-20-5
Posted on: 2013-04-23 under Non classé.
1 comment »